While the Canada Learning Bond is a federal program, we know that strong collaboration with allies at the provincial level is vital for reaching the millions of Canadian families who want to give their children a headstart in saving for post-secondary education. Our work in the following provinces has helped us find ways to raise awareness of the program, streamline applications, and in this way deliver "proofs of concept" that will hopefully inspire action elsewhere.
Ontario
As in other provinces, the birth of every child must be registered with the provincial government. Ontario's online "5-in-1 newborn bundle" makes the process easy and efficient, giving the newborn a birth certificate, social insurance number, access to federal and provincial child benefits, and now - thanks to SmartSAVER and increased provincial-federal collaboration - the registration process includes a seamless referral for opening up an RESP. Subsequently, children that are eligible for the CLB can rapidly begin receiving federal funding into their RESP accounts.
Behavioral insight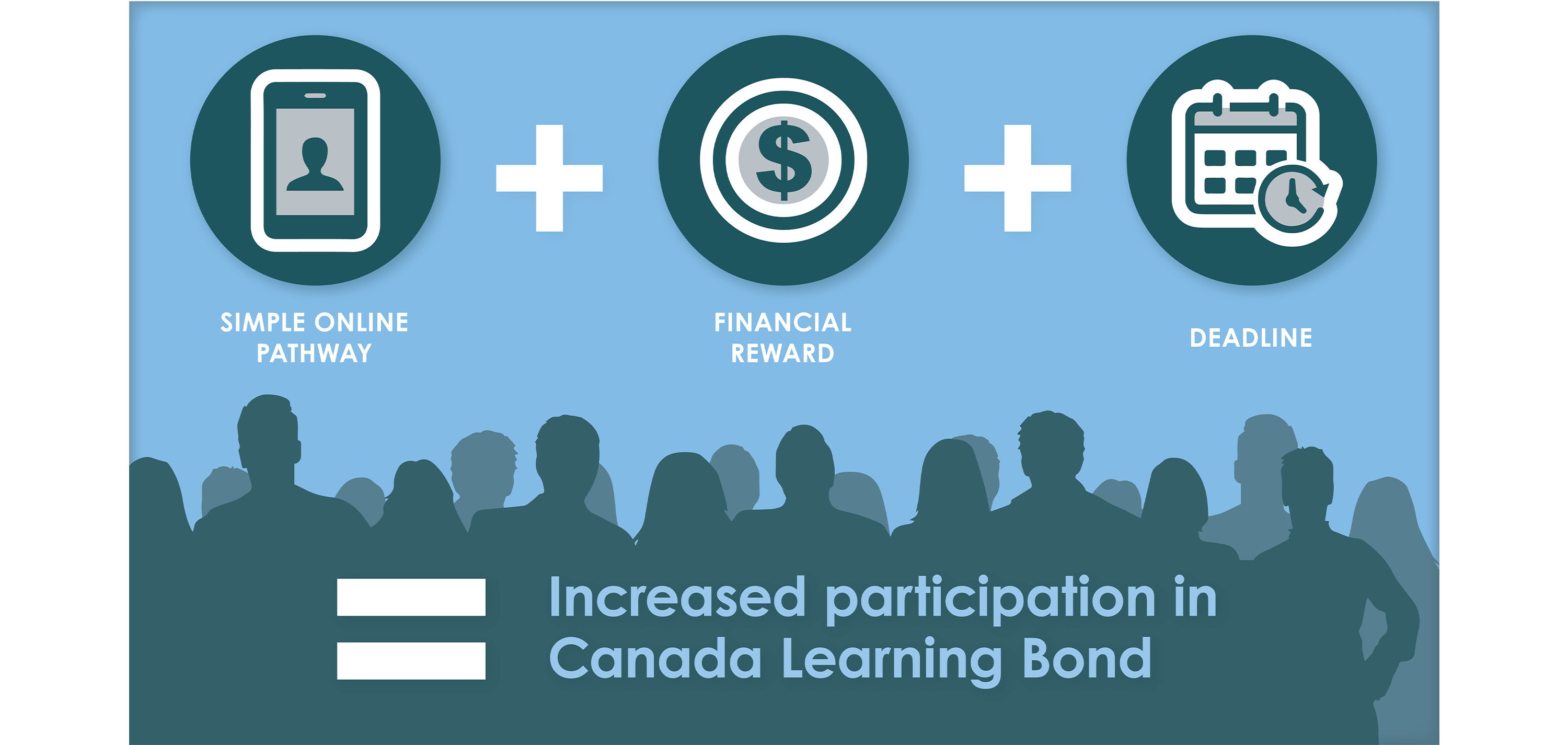 New Brunswick
We partnered with Economic and Social Development Canada (ESDC) and New Brunswick's Economic and Social Inclusion Corporation (ESIC) to test a CLB promotion campaign. Our aim was to encourage families to participate in the "Get Your Benefits Super Clinics" where they would be able to open up RESPs and receive the CLB. Through the pilot program conducted from December 2019 to January 2020, we measured the results of a traditional information-only mail-out versus a digital pathway with a $25 incentive per family. The number of digital applications was high and clearly indicated that families could be motivated when offered a simple online path, an application deadline, and a financial reward.
Nova Scotia
We supported the Nova Scotia government's Department of Community Services in their efforts to increase participation in the CLB during the 2019 tax season. SmartSAVER built a dedicated website to ensure easy access to information about tax clinics (times, dates, locations) and tracking of the department's efforts. The site also communicated how easy it is to apply for and receive the CLB. More than 700 applications were generated through in-person and online services in the program's first year.
We have also helped create customized CLB application portals for New Brunswick, Nova Scotia and Prince Edward Island.