Canada Learning Bond opportunity
The Canada Learning Bond is one of three incentive programs created by the federal government to encourage families to save for their children's future post-secondary education through Registered Education Savings Plans (RESPs). What is unique about the CLB is that eligible families receive up to $2000 in funding regardless of their own contribution amounts. (Families can contribute zero dollars and still receive the CLB). The CLB is a vital boost to modest-income families whose children might otherwise not consider college or university as a pathway toward a future career.
In an advanced economy like Canada's, with post-secondary credentials so widely valued, the CLB can be a life-changing gift for millions of children. The CLB, along with the other federal incentive programs, aims to ensure widespread access to college and university, which research has shown to boost the earnings of graduates and to increase national prosperity. Recent research from the US illustrates how a university graduate will, on average, earn a lifetime income of $800,000 more than a high school graduate. Canadian data suggests similar positive trends.
Behavioral insight
Federal support for saving
Canada's three post-secondary savings incentive programs are:
Canada Education Savings Grant (CESG), available to anyone with an RESP: a matching contribution paid by the government, and equal to 20 percent of the first $2500 contributed annually.
Additional Canada Education Savings Grant (A-CESG), available to modest-income families: provides additional funding of 20 percent of the first $500 contributed by the family annually to an RESP, or 10 percent of the first $500 contribution annually.
Canada Learning Bond, available to modest-income families regardless of their own RESP contribution: makes a payment of $500 in the child's first year of eligibility, and then pays $100 for every subsequent year during which the child is eligible, up to 15 years of age, to a maximum amount of $2000.
Converting the opportunity into reality
RESPs are vital pillars of post-secondary financing in Canada. In 2019 alone, $996 million was withdrawn from RESP accounts, making them equal in importance to student loans. In the same year, $205 million in CLB payments were made, following a recent trend of year-after-year increases. SmartSAVER is proud to have collaborated with its partners to help drive the CLB participation rate up from 20% to 40%, and has learned along the way how to help modest-income families of all backgrounds overcome some of the barriers they face in accessing benefits.
SmartSAVER's success with the CLB is the result of three replicable strategies that were refined over the past decade:
Government engagement: We studied and piloted tactics that governments could adopt to help make the CLB more accessible. We also engaged in partnerships to implement those tactics at a scale that would make a meaningful difference.
Digital approach: We found that online platforms were among the fastest and most effective ways to drive CLB sign-ups - not only through platforms we helped create (MySmartFUTURE) - but also those of third parties.
Behavior change: We sought to promote the CLB through fostering behavior changes among families as well as financial institutions and other vital partners that have relationships with them.
RESPs and the Canada Learning Bond (CLB):
vital to modest-income Canadians!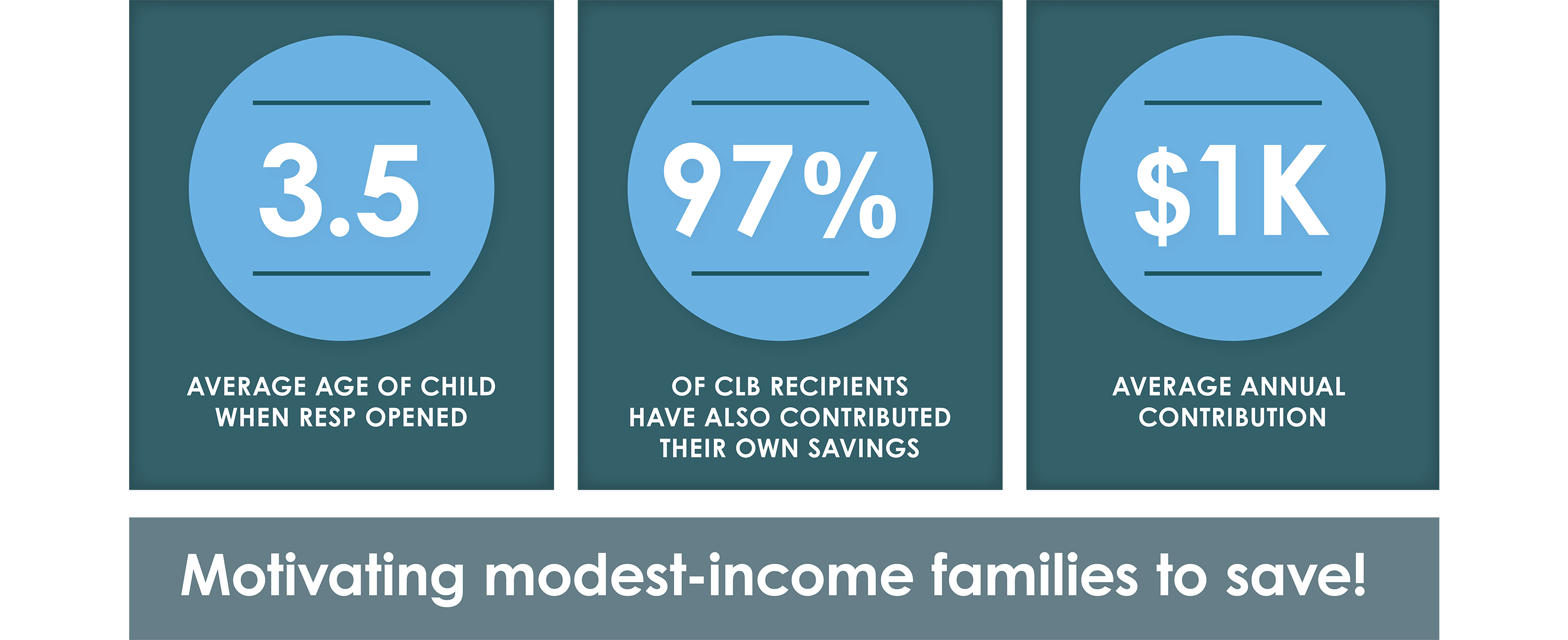 As a result of our efforts, online tools have been created and refined to promote RESPs and the CLB - explaining their benefits and demonstrating to families how much they can save. We have also streamlined the sign-up process and worked with financial institutions to improve their understanding of the CLB. This has enabled those institutions to train their staff who, in turn, can increase awareness among families. Collaborating with federal and provincial governments has resulted in large-scale programs to drive awareness of the CLB, including the provision of automatic RESP referrals in the Ontario "Birth Bundle". We are proud of these successes but we know there is more to be done, which is why we maintain our advocacy efforts, including a call for an amendment to the Income Tax Act that would enable First Nations to sign up their members for the CLB.